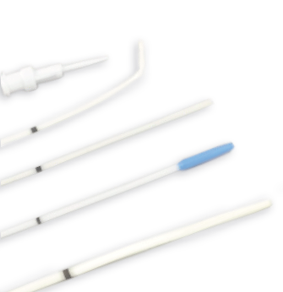 Thermo Sensitive Polyurethane Catheter
Hydrocoated, graduated and radiopaque
Supplied with a Stylet
80 cm Lenght
Curved or Straight/Open distal tip
RocaTub – Ureteral Catheter
| Distal Tip | 4 Fr | 5 Fr | 6 Fr | 7 Fr | 8 Fr |
| --- | --- | --- | --- | --- | --- |
| Straight/Open – 2 Eyes | ROTA4200ST | ROTA5200ST | ROTA6200ST | ROTA7200ST | ROTA8200ST |
| Straight/Open – No Eye | ROTG4000ST | ROTG5000ST | ROTG6000ST | ROTG7000ST | ROTG8000ST |
| Curved /Open – No Eye | ROTH4000ST | ROTH5000ST | ROTH6000ST | ROTH7000ST | ROTH8000ST |
Supplied with a stylet and luer.
Individually Packaged / Sterile / Single Use Device / Box of 10
Products Specifications are subject to change without notice.
Please consult product label and insert for any indications, contraindications, hazards, warnings, cautions and directions for use.
For the latest information, always check the "Instructions for Use" that comes packaged with the product.