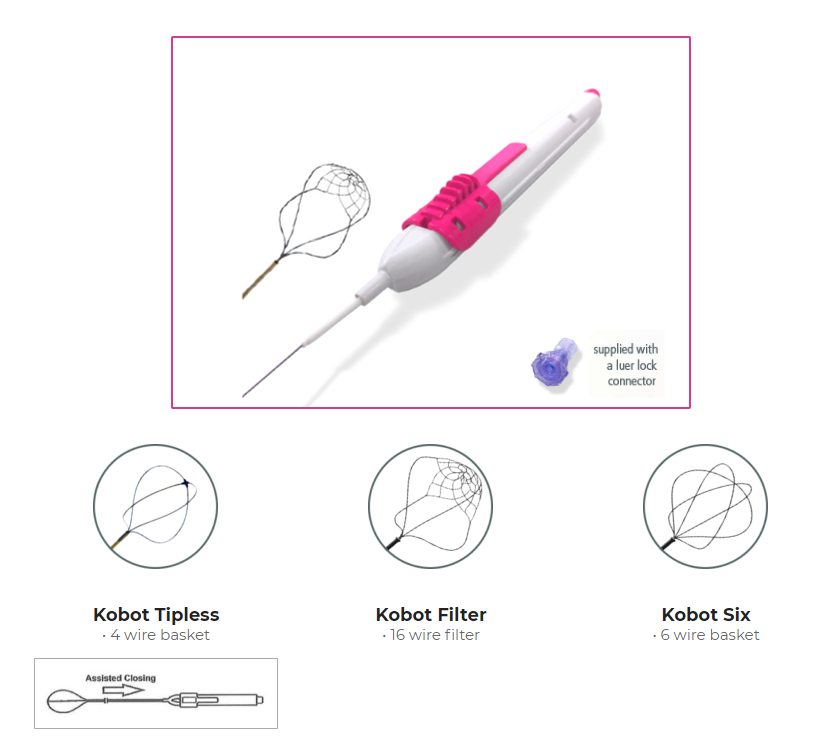 Kobot Tipless Baskets
A new range of Stone Retrieval Baskets in line with the concept of Cobotic. Kobot baskets are diversified, effective and integral to the working of the surgeon and his assistants and allows for maximize performance.
Ergonomic Criterium Handle
An innovative and ergonomic Criterium Handle with assisted closing system, helps in catching, retaining and removing of stone fragments.
Flexi Tip Improvement
For a better scope deflexion

KOBOT – Criterium Handle
References
Size
Fr
Wires
Working Lenght
(cm)
Basket
Ø (mm)
Basket Lenght
(mm)
Product
description
ROSZ1930ST
1.9
4
120
12
17.5
Kobot TIPLESS – Criterium Handle
ROSZ1940ST
1.9
4
120
12
17.5
Kobot TIPLESS – Criterium Handle with Assisted Closing System
ROKT1800ST
1.8
4/16
120
14
18
Kobot FILTER – Criterium Handle
ROKS1700ST
1.7
6
120
11
15
Kobot SIX – Criterium handle
Individually Packaged / Sterile Device / Box of 1 / Single Use